White Rose Temple Space - Soulful Pregnancy & Sacred Birth
Soulful pregnancy and sacred birth. Pregnancy and birth is one of the most sacred journeys of the human experience. It is creation. It is the deepest and most profound aspect of our existence. We have all been brought in to this world from the Womb of our mother, and it was the union of the masculine and feminine that together created "new" life.
This is the story of you, me and the whole universe. This connects us to Mother Father God and all life to each other.

Soulful Pregnancy & Sacred Birth

Welcome sisters, brothers, becoming mothers, becoming fathers, doulas and midwifes to this sacred space with the White Rose – Soulful Pregnancy & Sacred Birth.

We are in a time of rapid and intense transition of the Earth and all Humanity. We are in a time where the New Children are being born, and we are all here to assist them in different ways. The "old ways" is not working any more, and White Rose is here to assist in this transition into the new way – the transition to a Soulful Pregnancy and Sacred Birth.

White Rose is bringing forth new wisdom and teachings to help all new souls – the New Children - to be born, to help and support the families, the women and men on their journey into a Sacred Motherhood and Sacred Fatherhood.

We are here to assist, support and help all parents and becoming soulful parents to learn a new way, so we can help these sweet new souls to blossom their uniquness and soulgifts they are coming with. It is important that we give them a soulful start in their journey.

A Soulful Pregnancy journey is a journey for the mother and father to get to know the soul of their child, to clear and cleanse the way for the new soul to be birthed through. A journey back to deep self-love to yourself, and to your beloved baby, the father/mother, and all life there is. You will open up for a deep transition into motherhood and fatherhood.

We know that all Mother have all knowing inside of her, and also how to give a natural sacred birth to the new soul. We also know that all Father have all knowing inside of him to support, love and protect this new soul, to support the mother during the whole pregnancy, and to be the "pillar of light" during the birth.

We – the White Rose - are just here to help her and him to remember this natural and loving way, to give birth to a new soul. Welcome to meet us in a sacred space to share our visions and wisdom of this new way of Soulful Pregnancy and Sacred Birth.

During the day we will share our experience and wisdom of a soulful pregnancy and sacred birth, and the new wisdom and teachings of the New Children. Camilla will share this new wisdom and teachings from the White Rose. Adrian and Elli will share about their journey thru soulful pregnancy and sacred birth as a couple walking the path of love together and the magical experience of giving birth to their son in the White Rose Temple in this new way. Read more about their beautiful journey here...
https://m.facebook.com/story.php?story_fbid=797558287351367&id=408717619568771

This day will be devided into two circles/spirals:
10.00 -12.30 – Soulful Pregnancy
14.00 -16.30 – Sacred Birth

You can come on both or on one spiral/circle.

Between the spirals we offer raw-food, cakes and lunch in our White Rose café´s, so we can keep on meeting, sharing and talk to eachother about this important topics.

Welcome sweet brothers and sisters!

WHERE: Isis Gudinnetempel Södermalm, Allhelgonagatan 5, Stockholm

WHEN:
16th December
10.00-12.30 Soulful Pregnancy
14.00-16.30 Sacred Birth

INVESTMENT: 300 Sek for each circle or 500 Sek for both.

SPACE KEEPER: Camilla Åkerström

SIGN UP: send a mail to contact@thewhiterose.se

For more information please visit
www.thewhiterose.se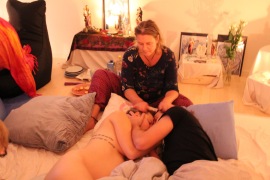 Dear Sisters & Brothers, I want to share with you when this beautiful soul came down to earth and into physical form. The incredible space that was held for this divine event is something so unique that it is hard to explain. I do not know if this has ever happened before, that an angel, such an amazing soul, came down with his soul family in both physical and non-physical form. The space was held by the entire White Rose, all the helpers, Yeshua, Maria Magdalena, Mother Mary..... Read More Here!